As we progress further into the digital age, books are taking more forms than ever before. With traditional books, e-books and audiobooks offering various advantages, it can be hard to decide which is right for you.
Though I'm a proponent of books in general, I've recently become a huge advocate for audiobooks. I first started listening to them while studying abroad in Europe. On long train rides, I often wanted something to do, but I'm too prone to motion sickness to read in moving vehicles, so for one particular trip I decided to try out an audiobook ("The Maze Runner" by James Dashner) and I've been listening to them ever since.
The nice thing about audiobooks is that you can be engaged in the story without having to look at a page or screen, which makes them perfect for long commutes or road-trips. Plus, they can make the most mundane activities more interesting; I personally listen to audiobooks while I'm doing laundry or other chores around the house.
But audiobooks don't just provide a distraction—they add a little something extra to the reading experience as well. Many narrators incorporate sound effects and different voices for different characters. Plus, many famous authors voice their own works. Is there anything more entertaining than hearing Amy Poehler read her own memoir to you? Probably not.
If you think audiobooks might be worth a try, check out the pros and cons of some of today's best audiobook providers.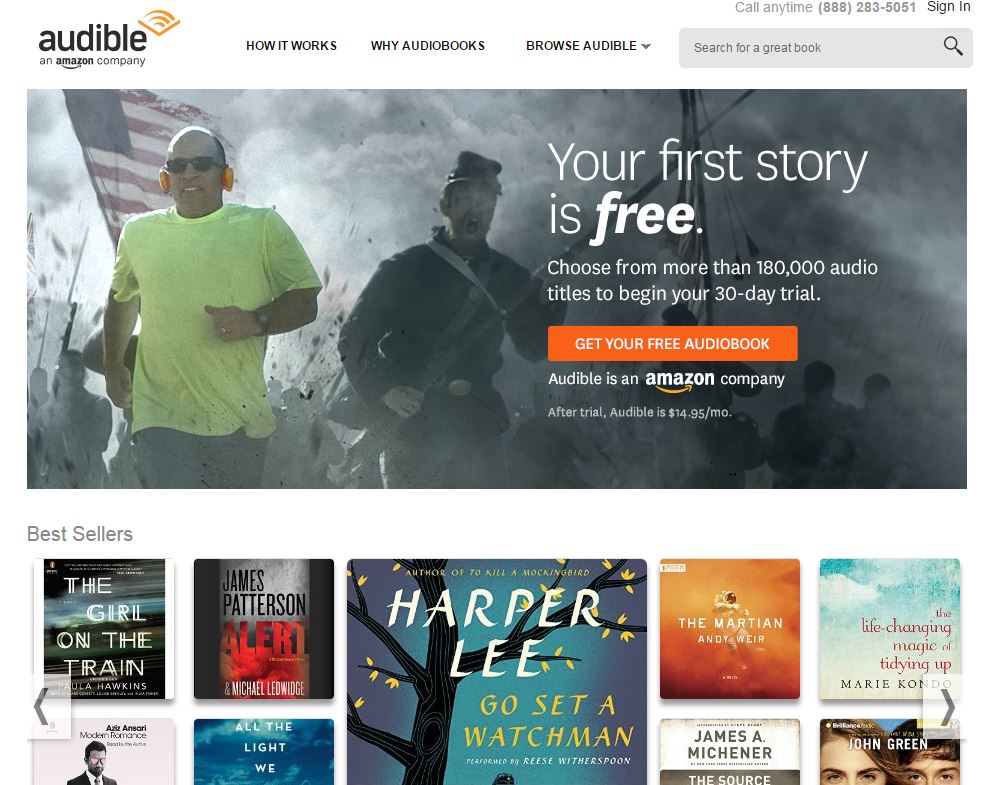 Audible.com
Audible is one of the best and certainly one of the most well-known audiobook providers, but the service isn't free. After a free one-month trial complete with a free audiobook, membership costs $14.95 per month and includes one audiobook per month, plus discounts on additional purchases. With Audible you can listen on your computer, smartphone or tablet and choose from a diverse selection of books including the most recent titles. If you don't want to buy a membership, you can also buy individual titles, but they tend to be a bit expensive.
Pros: Large selection of titles, Works on multiple devices
Cons: Monthly membership fee
Podcasts
Believe it or not, there are a number of free podcasts that release chapter-by-chapter novel readings. Some are produced by emerging authors hoping to promote their work, while others are created to share classic and influential literature with the world. LibriVox Audiobooks is one example of the latter. Their books are sourced from the Gutenberg Project, which means that they mostly offer classic titles like "Dracula," "Moby Dick" and "Uncle Tom's Cabin." You can listen via the iPhone podcasts app, the Android app or online through their archive. If you're looking for a specific title, you can also try searching the title in the iPhone podcasts app; some podcasts are dedicated to single novels.
Pros: Free to listen, Works on multiple devices
Cons: Less variety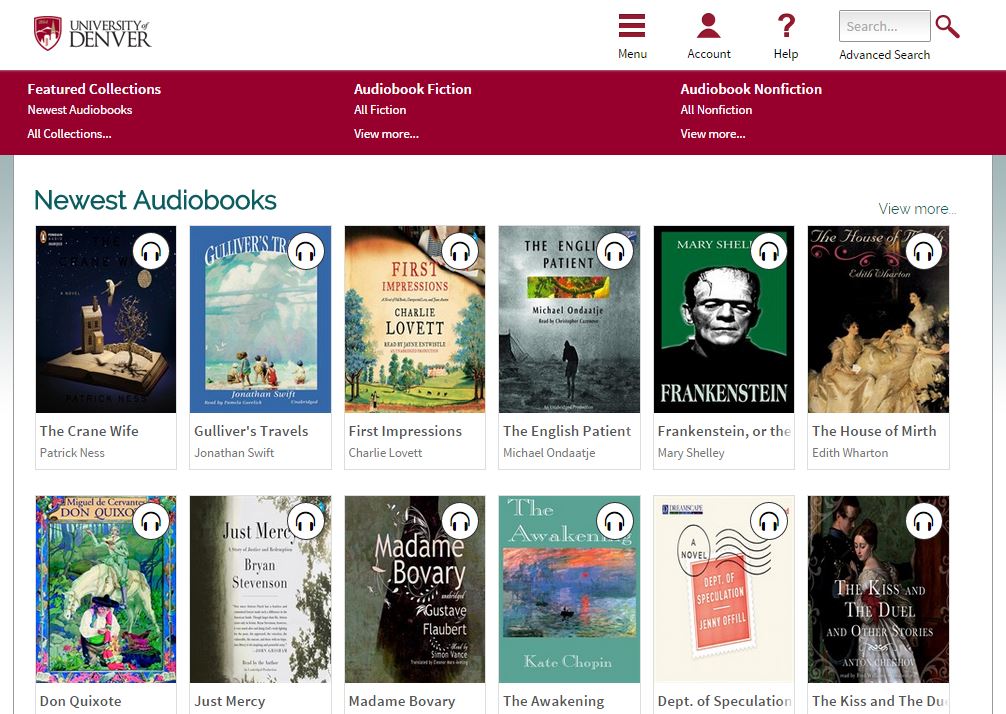 Public Library
The Denver Public Library (and most other public library systems) now offer a free app for checking out electronic media. With the Overdrive app, you can check out free e-books and audiobooks from your local library to enjoy on your smart devices, and you can also browse and borrow titles online. The only drawback is that there are a limited number of each audiobook, so you may have to place a hold and wait a while to get the one you want, and not all titles available at the library are available as an audiobook. The Anderson Academic Commons also has an Overdrive store, so you can listen free with your DU ID number on the library website.
Pros: Free to listen, Fairly large selection of titles, Works on multiple devices
Cons: May have to wait for titles
Listening to audiobooks can provide a new twist on an old favorite book, or create a unique experience listening to a new favorite for the first time. No matter what kind of audiobook you're looking for, there's somewhere to find it. Hopefully these tips will help you expand your reading repertoire and find the right audiobook service for you.