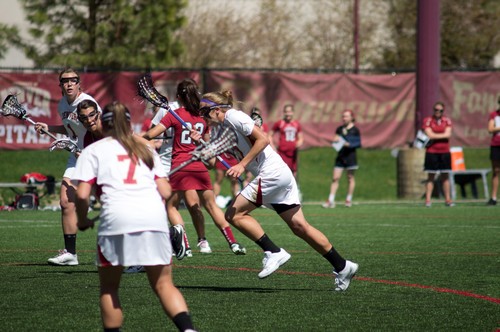 Photo by:
Despite strong individual performances from redshirt junior Kara Secora and freshman Jill Remenapp, who each finished with four points, the No. 2 seed Pioneers fell 14-9 to No. 3 seed Stanford in Palo Alto, Calif., on Friday in the semifinals of Mountain Pacific Sports Federation postseason conference tournament.
"I think we all wish we could get a do-over in last night's game," said head coach Liza Kelly on Saturday. "I am proud of the team and the way they represented DU all season. As we told the team, it is their body of work that they will be remembered for, and a 12-3 record is something to be proud of."
The Pioneers (12-3, 6-1 MPSF) will not enter the postseason despite posting the best start in program history, which included a 12-game winning streak. While they dominated nearly every opponent, none of the teams in their regular season schedule were ranked, excluding then-No. 17 Johns Hopkins in Denver's season-opening loss on Feb. 24.
Stanford (8-10, 5-2 MPSF) entered the tournament as seven-time defending MPSF champions, having won the tournament every year since 2005. Friday's contest marked the fourth time the Cardinal have knocked the Pioneers out of the conference tournament, including three one-point losses in the MPSF championship game in 2007, 2008 and 2010.
While the Pioneers played an aggressive second half and ultimately out-shot the Cardinal 27-22, a slow start to the contest resulted in a score deficit that was more than they could overcome. Secora opened the scoring only 43 seconds into the contest, but the Cardinal answered with four straight goals. At halftime, Stanford led Denver 10-3. Despite six second-half Pioneer goals, Denver was unable to close the gap and fell 14-9.
Secora recorded two goals and two assists for Denver, while Remenapp added a hat trick and one assist. Sophomore Meredith Harris and senior captain Melissa Maier recorded two goals each. Junior Kate Henrich, who leads the nation this season in caused turnovers with 3.07 per game, forced three Cardinal turnovers and picked up five ground balls in addition to five draw controls.
When the teams battled earlier in the season, Denver dropped the Cardinal 12-9 at home during their senior game on April 7. Seniors Becca Steinberg and Laura Connors tabbed this game as the highlight of their senior season.
"Beating Stanford [on April 7] was definitely a highlight since we didn't get the opportunity to play them in playoffs last year," said Connors early last week.
Despite the Pioneers' solid performance in the first match-up, they were unable to top a team that has dominated the conference almost every year since its creation in the 2003-2004 season. Six different players scored for the Cardinal, led by senior midfielder Emile Boeri's four goals.
"Denver is a really physical team," said Stanford head coach Amy Bokker. "I thought we handled it a lot better than last time we played them. We really had a lot of players step up tonight."
In the championship game, Stanford took on No. 1 seed Oregon (14-4, 7-0 MPSF) in the MPSF championship game, falling 13-10 as the Ducks claimed their first conference title and the Cardinal snapped a seven-year MPSF champion streak. Oregon's 8-3 lead after the first half proved too much for Stanford to overcome, as Oregon goalkeeper Caroline Federighi had nine saves and was named the tournament MVP.