Located on South Broadway, one of Denver's greatest stretches of culture, dining and nightlife, Corvus Coffee Roasters brings sustainable and delicious locally roasted coffee to Denver.
Corvus's giant matte black billboard hangs over bustling Broadway and beckons you into the similarly painted and designed shop. Inside, one is greeted by a delightfully bright industrial interior and equally cheerful baristas. Wood, iron and exposed pipes mark up the store's aesthetic. The main espresso bar wraps around in a square taking up the middle of the space, with high tables and stools surrounding it on the sides. In the far back, the space is occupied by the roaster, which, due to its exposed nature, emits deliciously nutty smells throughout the shop. The open floor plan of the store makes for a conversation-inducing and bright environment, but coupled with the mellow, yet loud music, it's not the best for studying. Corvus is, however, the perfect place to put the laptop or notebook away and instead enjoy human company and conversation.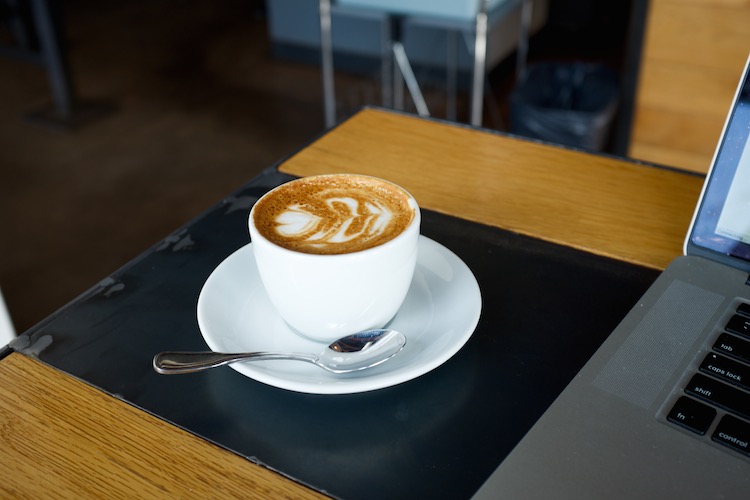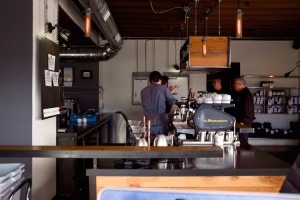 Corvus serves as both a full-service coffee shop and a roaster that outsources its coffee to other coffeehouses and to customers. The coffee is roasted in small batches around two to three times a week, meaning that any coffee you receive was roasted no more than two days beforehand. On certain days, you can sip your finely crafted espresso drink while watching the actual roasting process, a rather informative and wonderfully-smelling event. One important note about Corvus's coffee is their dedication to making sure the coffee they serve is sourced from responsible and well-supported farmers. Corvus makes sure that their sources farm sustainably and fairly. In this day and age, knowing how and where your coffee is sourced is just as important as its taste, and Corvus is dedicated wholeheartedly to being transparent regarding their coffee and its sourcing.
Corvus's espresso menu is simple, with staples such as Cortado ($3.80), Cappuccino ($3.90), Cafe Au Lait ($3.30) and regular black coffee with a market based price. There are also speciality drinks such as the highly lauded Madagascar Vanilla Latte ($4.20). This Grinder's regular cappuccino was a delicious example of coffee perfection. This espresso and milk foam concoction was  velvety smooth, sweet and nutty. If you're in store for more than just a drink, you can purchase various brewing methods, coffee by the pound and even barista training classes at Corvus. While the coffee at Corvus is without a doubt some of the best, if not the best, in Denver, the prices might be a drawback for penny-pinching students. However, if you're looking for a great place to splurge on some well-earned caffeination, Corvus is sure to fit the bill.
(Corvus is located at 1740 S Broadway, Denver, CO 80210. They are open from 6:30 a.m.— 6:30 p.m. every day of the week. Roasting can be viewed on Monday, Tuesdays, Wednesdays and most Fridays.)