When Redford's Tavern officially closed for business, the DU community was left with a hole on University and peaked curiosities as to what would fill this prime piece of real estate. The answer is a manifest of a long-standing need within the DU community: a top-notch brunch and breakfast spot serving up some Southern classics and gourmet cocktails from their scratch-made kitchen. This morning eatery will be a second location of the Four Friends Kitchen, a Stapleton hub for breakfast and lunch that is busy even in the early afternoon on a Wednesday. Rooted in old-fashioned Southern hospitality with a menu to match, Four Friends' Kitchen is a local grub spot that feels as close to a meal at home as you can get without sitting at your dining room table.
In order to truly get a sense of what is coming to the DU community, I took a trip down to the Stapleton location to see what will be coming our way. A Four Friends Kitchen signature is starting off the meal on a sweet note with an order of beignets. Made in house and generously covered in powdered sugar, these puffs of indulgence are served with crème anglais and three berry preserve dipping sauces that will have you singing to the heavens and contemplating a diet solely comprised of sweet fried dough. If you are in the mood for more of a savory appetizer, their house made grits are another popular option. Cooked overnight to fluffy perfection, this classic Southern dish comes creamy, cheesy or even coconut flavored, a far more intricate twist than your classic instant grits.
Four Friends Kitchen is a scratch made kitchen that works to source their ingredients as locally as possible. They are particularly proud of sourcing their eggs and sausage right here out of Colorado. Their hyper local beers are also a major pull for the microbrew seeking lunch crowd, carrying selections from Station 26 Brewing Co. just right up the road. Four Friends Kitchen expands on their mission of conscious corporations by contributing funds to charities that feed the homeless, and educate low-income families on healthy eating. Four Friends Kitchen also held a food bank drive in which they gathered over 45,000 items to be donated to the local bank.
While their menu offers a mix of both sweet and savory, it is their entrees that sway away from the indulgent that Four Friends Kitchen's southern roots really shine through. A twist on a breakfast classic, their fried and green tomato benedict replaces the base carb with a fried green tomato slice that is then topped with a pile of crab, poached egg and the classic hollandaise sauce. These flavors blend seamlessly with a slight kick of spice that adds depth and interest to the taste. Served alongside potato cubes crunchy on the outside with fluffy soft interior, breakfast dreams come true through this dish.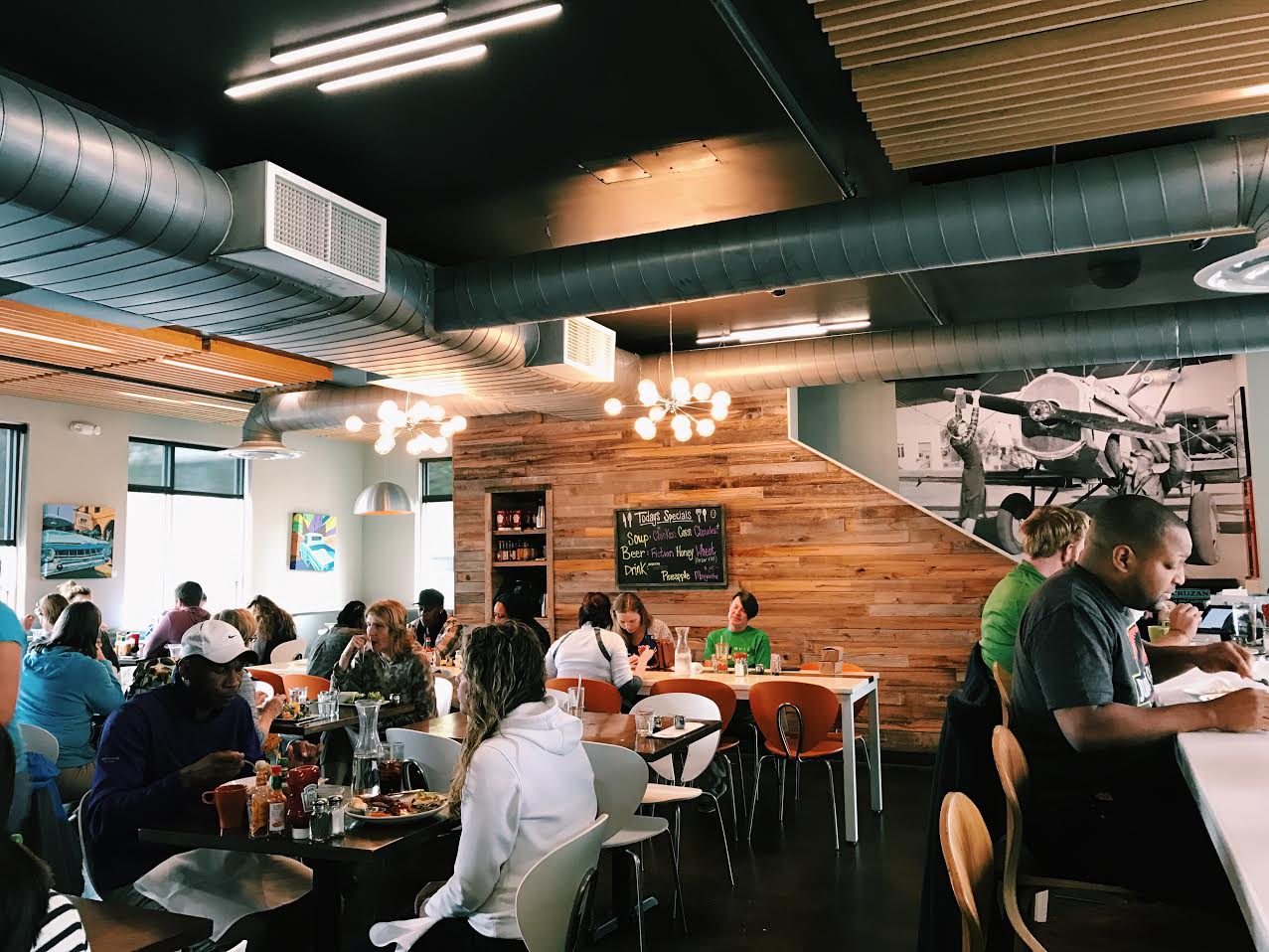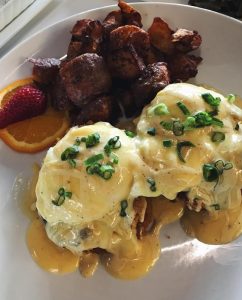 If you come more in the mood for lunch rather than breakfast, a great option would be the down south trio. A generous portion of bacon collard greens, served alongside house made chicken tenders coated in a smoked chili caramel sauce, with a heaping bowl of green chili bacon mac and cheese comes your way on this platter for the indecisive.
Four Friends Kitchen offers unique and delicious dishes, but they differ from most brunch spots when it comes to their drink selection. A full service bar offering wine and beer selections as well as classic breakfast cocktails and rotating seasonal specialties allows patrons of Four Friends Kitchen to play around with their gastronomic pairings and create an eating experience that is truly their own. Their current seasonal cocktails pick up on summer notes with an inclusion of pineapple juice, with some unique yearlong beverages including their beermosa and blackberry mojito.
Four Friends Kitchen is a local business started by two couples in the Stapleton area searching for a family-friendly breakfast restaurant with really tasty food. Seeing a distinct need in the market, they decided to create one of their own, striving to create a destination that diners can feel just as comfortable in sweatpants as they do in church clothes.
When you come into Four Friends Kitchen, you are immediately greeted by a wall of etch-a-sketches (an addition tentative to translate to the University location) with the offering of other toys for both kids and adults to use to amp up the fun of a brunch out experience. A meal here will run you anywhere from $10-20, depending on if you order alcohol, but portions are generous and prices are typical of what you see in most restaurants catering to the morning eater. Visiting the Stapleton location left me with high hopes for the University location of Four Friends Kitchen, which is expected to open this summer.