The student-run Beans Coffee Shop in the Knoebel School of Hospitality is well-known as a convenient and cozy standby for caffeine on campus. But their after-hours bar service known as "Beans After Dark" is an underappreciated hotspot for kicking back after class, especially for students who are 21 and up. Hosted every Thursday from 4:30 p.m. to 7 p.m., Beans After Dark is a friendly and intimate space that remains the sole place to purchase alcohol on campus.
Beans After Dark is essentially an extension of Beans' regular hours (all of the coffee and food from normal hours is still available), with the addition of adult drinks on hand and usually a quieter mood. Last Thursday night brought a mix of students doing homework in the corners, some hosting meetings for organizations and some just catching up with friends. The night also featured the amusing addition of professors grabbing drinks together.
The drink menu was impressive in terms of both cost and quality. A selection of four seasonal beers were available for $4 a bottle, as well as a variety of red and white wines for the great price of $5 a glass. According to Beans assistant manager and frequent Beans After Dark bartender Marigrace Scrivanich (senior, hospitality management), the bar just started stocking a new brand of Chilean wine, which enabled the remarkably low price point.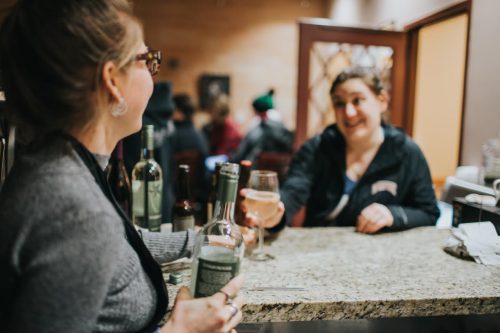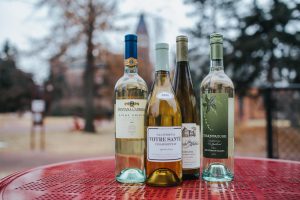 "You can definitely find the same bottle of wine at restaurants for $8 to $10 a glass," Scrivanich said.
She also recommended the Syrah for a bold, peppery red wine, but the Pinot Noir proved to be an excellently smooth, easy-to-drink alternative.
The highlight of the alcohol menu, though, was certainly the custom cocktail specials, which rotate every two weeks. The creative flair of the hospitality students is apparent in these fun offerings, such as the Hot Mulled Wine that was offered during the coldest days of the quarter.
Last week's offering, a Spiced Old Fashioned, was like the classy older brother of Fireball whiskey: delicious, though perhaps a bit strong for a newly 21-year-old reporter with a low BMI.
Stay tuned for a Valentine's Day-themed Pomegranate Martini this year, as well as a Bailey's Irish Cream concoction set to debut around St. Patrick's Day.
With its stellar drinks, convenience and relaxed atmosphere, it's a wonder Beans After Dark hasn't become more popular.
"Most of our usual clientele consists of the staff of Daniels [College of Business], but it seems like the word hasn't gotten out. We'd love to see more students coming in," said Beans Co-Manager Rebecca Rodeheffer (senior, hospitality management). She also recommended the $4 charcuterie snack box as a great snack to pair with wine.
If you're an older Pio looking for some good drinks on campus, take Rodeheffer's thoughts about Beans After Dark to heart: "It's the Beans you know with the friendly baristas and cozy atmosphere you love, but plus alcohol. Why not come?"