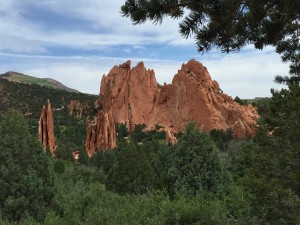 A hiking blog written by a native of Colorado Springs would not be complete without a trot through the city's crowning gem: Garden of the Gods. Given to the city of Colorado Springs in 1909 under the conditions that it would forever be known as Garden of the Gods, remain free to the public, not allow booze to be manufactured or sold on the land and not allow buildings to be erected other than those dedicated to the care of the park, it has become one of the most famous and popular attractions in Colorado. At an hour and a half away from DU, it's not too far for a day trip, either.
There are many trails in and around the park, which is nice because you can really customize this hike to your skill and dedication level. If you want to make it a long, moderately intense trip there are several trails that wind far in and around the park. If you're looking to simply enjoy the rock formations and other scenery while taking a light stroll, there are also paved paths within the inner park that are very mild. Even better—all of the trails all intersect, allowing you to enjoy several different levels of difficulty and types of scenery in one area, which was exactly my approach to this hike.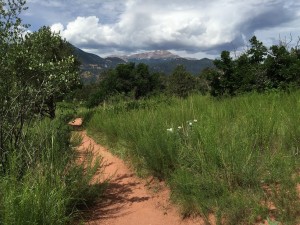 We began on Buckskin Charley trail, about a mile away from the main rock formation area of the park. The hike was very moderate and only about a bit over a mile, although there were some slight inclines that seemed a bit tough in the heat (try to go early in the morning or in the afternoon; a midday hike was a very bad call). This part of the park is located in a gorgeous plain, with tall green grass and plentiful wildflowers placed against the stunning backdrop of Pikes Peak. There is a reason that this park is so heavily visited: it is seriously beautiful.
At the intersection of the Buckskin Charley and Scotsman trails (about half a mile into the hike), we turned onto the latter to made our way toward the heart of the park. This trail was, again, very moderate, but we were looking for a scenic route more than a hard workout. If you're seeking something more intense, you can follow several trails along the far sides of the park, like Foothills trial and Balanced Rock trail, to the visitor center and trading post, respectively (both on opposite sides of the area).  Each is about two miles, providing ample exercise, especially if you attempt to tackle them both.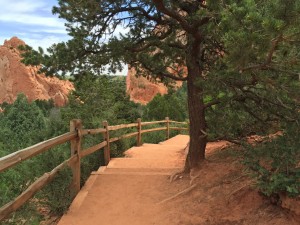 We followed Scotsman trail to the interior of the park, where there are several paved trails that wind around various rock formations. Keep in mind that if you aren't game for actual hiking, you can certainly just park and walk around this interior portion of the area and enjoy the scenery. The views are absolutely stunning: the rich red rocks are massive and carve out a dominant skyline against the deep blue of Pikes Peak and the sky. This is the Colorado Springs money shot—you've probably seen it on a million postcards and brochures for the city—but no photo can do justice to the rich colors and sheer size of everything at play in this brilliant view.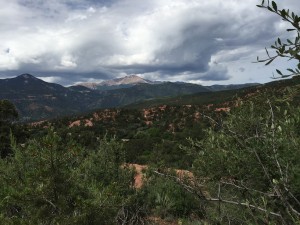 For me, this is one hike where scenery takes special precedent. While the trail is by no means a walk in the park and can certainly be made more difficult, I find that spending the day amongst amidst such beauty is the main draw. Another bonus for me is that I know endless amounts of somewhat useless information about the park that I can whip out to a newcomer. I didn't go on field trips to this place every year throughout elementary and middle school to not school everyone at trivia. Those 300 foot rocks? They were once sand dunes covered by a giant inland sea. You're welcome. I knew you were curious.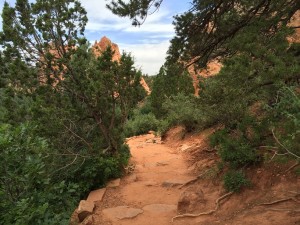 Bottom line: if you're looking for a casual hike through one of Colorado's most scenic and famous parks, definitely make the trip to Garden of the Gods. Between the wide variety of trails and amazing scenery, you won't be disappointed.