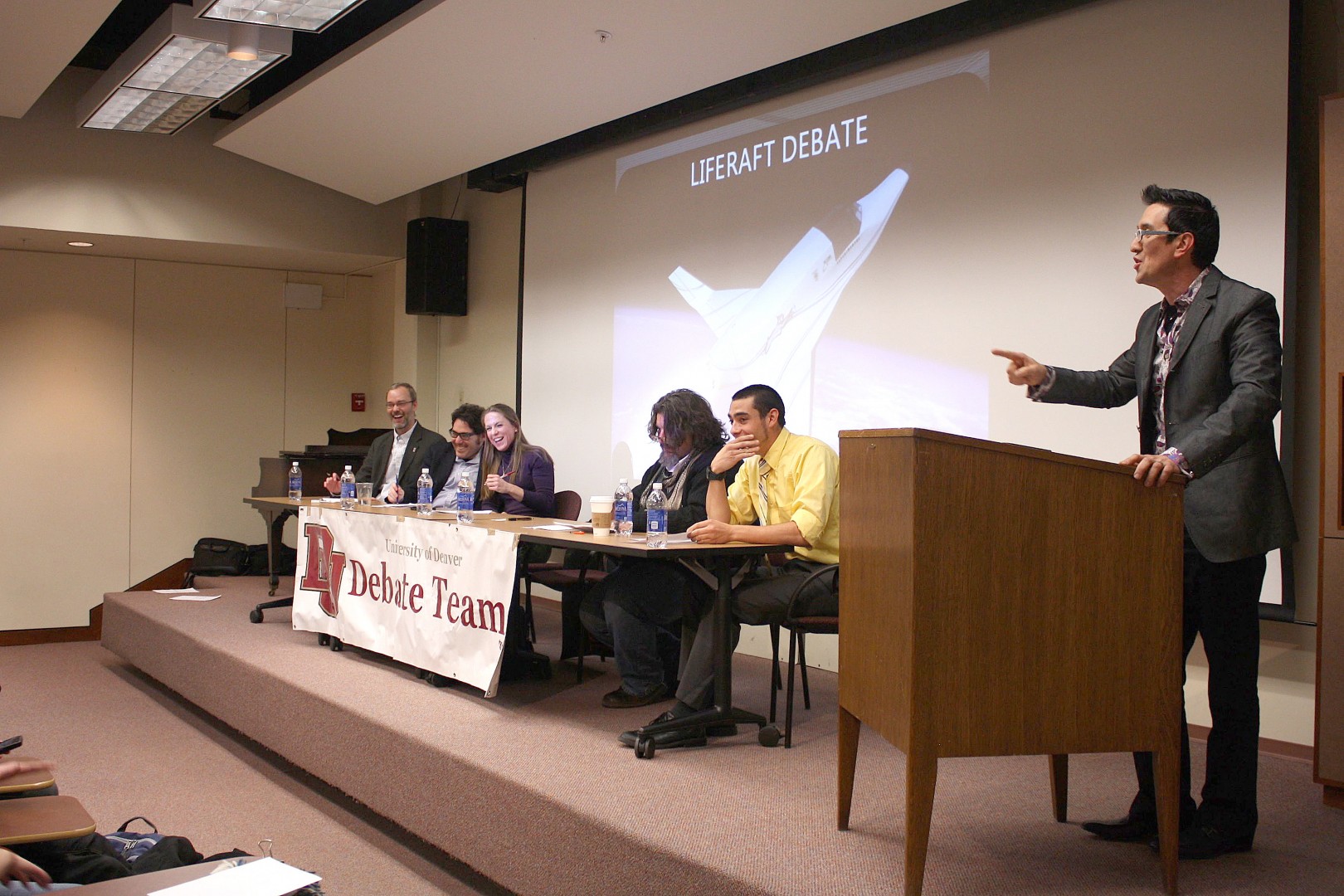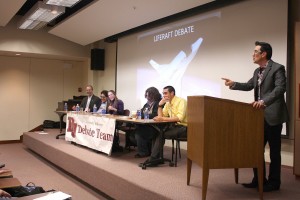 Last night the Debate Team hosted the first annual Life Raft Debates, which saw five professors from five disciplines vie for the last seat on the only rocket to humanity's new home.
The debate focused on the idea that a zombie apocalypse has happened.
Dr. Peter Hanson, a professor from the Political Science department advocated his position first.
"Obviously, everyone else here [on the panel]is not as immensely qualified or as knowledgeable as me," said Hanson.
Dr. Jonathan Sciarcon from the History department challenged Hanson.
"Historians, like fortune tellers, can teach more than the neutron dance, or talk you to death by communication," said Sciarcon.
Religious Studies Professor Dr. Andrea Stanton presented another argument on the fact that religion is a universal discipline.
"As this debate [promotion]poster says 'ticket to salvation,' this is not a debatable event," said Stanton. "Apocalypse actually doesn't mean catastrophe, rather a triumph of good over evil, and that is why I am here tonight."
Dr. Philip Danielson from the Biology department kept the crowd on their toes when he argued that the seat on the rocket should go to the survivor.
"These professors are all luxuries that exist because of biology," said Danielson. "We are a fundamental feature of life, of rational thinking and we virtually guarantee survival."
Professor Dr. Darrin Hicks from the Communications department kept the crowd laughing when he argued that the greatest importance is to ensure that people are able to seduce each other.
"No amount of knowledge will save our asses," said Hicks.
Head of the Debate Team, Cody Walizer argued no professor should win the last seat
"The problem is that we [students]have been oppressed by these pushy latte drinkers for too long," said Walizer. "The ride to Mars is a long trip, and any information that these people do decide to share, we [students]could just consult the Hitchhiker's Guide to the Galaxy for anyways."
Walizer, won the debate unanimously by an applause vote by the audience.