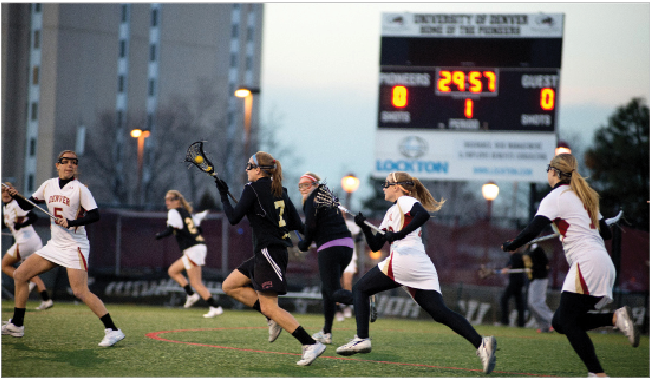 The women's lacrosse team will begin its 2013 season on the road against Vanderbilt this Saturday, followed by an additional two road games before their home opener on March 2 against Louisville, the first of five consecutive games at home.
"We are ready to go; we've been in preseason for over six weeks, and I think that the team and the coaching staff are really excited to travel to Nashville," said head coach Liza Kelly. "[Vanderbilt] graduated a ton of seniors that were top in the country, so we're not quite sure what team we're going to see from them. I'm hoping that our team that we ended with in the fall is the one that we're going to come out with."
The Pioneers are returning 19 letterwinners this season, 10 of which were starters last year. During the 2013 season, the team finished second in the Mountain Pacific Sports Federation (MPSF) regular season with records of 12-3 overall and 6-1 in the MPSF.
According to the 2013 MPSF Women's Lacrosse Preseason Coaches' Poll, the Pioneers are selected to finish third behind Oregon and Stanford. However, Kelly said the team has their eyes set on first place and nothing less.
"I feel like I'm saying it every year; we need to get over the hump and win the conference championship," said Kelly.
"This team did some great things last year, but I think the ultimate goal for us is to get better everyday so that we're winning that championship game and so that there's no question in anyone's mind going into next year who's the number one seed."
Returning for the team are the top three scorers from last season, sophomore Jill Remenapp, junior Jenn Etzel and redshirt senior Kara Secora. Also returning is senior Kate Henrich, who led the nation in caused turnovers. The team as a whole also led the nation in caused turnovers.
Both Henrich and Secora were selected to the 2012 All-MPSF First Team last year, and were also named this season's team captains, along with fellow senior Jessica Gring.
"Last season, I thought that we were really good, but I think this season will be better," said Secora. "I think we're stronger, and we are definitely an older team. We have a lot more juniors and seniors this year, and all of us want to win."
According to Secora and Kelly, the team is looking to start the season off with a win, something they weren't able to do last season. The team opened against John Hopkins last season with a 20-5 loss.
"We got embarrassed last year against Hopkins, and I think that we're putting ourselves out there again by going on the road against a tough opponent," said Kelly. "We want to play the way that we ended the year, and even the way we ended the fall. I think we've got a lot of different threats on the field, and I think defensively we're solid."
Kelly said she views the team's defense as one of their biggest threats to opponents. Gring finished third on the team with 18 caused turnovers last season, and Henrich broke the DU single-season record with 46 caused turnovers.
"We showed them a lot of different looks, and I think that our opponents can't just prepare their offenses as if they're going to see a standard man-to-man [defense]," said Kelly.
As for the Pioneers' offense, Kelly believes the addition of assistant coach Matt Lawicki will help to create new looks offensively. She said the Pioneers' opponents won't be able to see the same looks that they've shown in the past.
Last season, the Pioneers were ranked 10th in scoring offense with 13.93 goals per game and were also 11th in scoring margin with a 4.2.
The team has been working on their field chemistry during practices in order to know what to expect from each other both offensively and defensively.
According to Kelly, the team has a great base of veterans that have been playing together for a while and now needs to figure out how the seven new freshmen fit into the mix.
"This freshman class brings a wealth of different experiences to DU," said Kelly. "They have competed for top high schools and club teams and play with a championship mentality."
Four of the incoming freshmen will be playing midfield for the team. Lauren Gerrie was named All-County First Team for her final two years of high school and also led her team in scoring with 106 goals. Sarah Kasun led her club team to the Club National Championship in 2009 and 2012.
Also playing midfield is Monica Lucas, who was named U.S. Lacrosse First Team All-American, and Rachael McKinnon, who led her club team to a 42-0 record in 2011 and 2012.
Rounding out the rest of the freshmen are Helen Shabinsky, Christa Reese and Colorado native Brooklyn Batey on defense. Batey was voted All-State as a senior and earned all-league three times. Reese was named to the Baltimore Messenger All-Star Second Team in 2011, and Shabinsky earned all-section, all-league and all-county honors from her high school team.
"I think we work a lot harder to help each other get better in practice everyday, and I think we have a little bit more of that drive this time," said Secora. "Preseason is a lot of hard practices, but we're definitely ready now; every practice means we're getting better every minute. We take every practice and go from there."
This new season also comes with a change to the NCAA tournament bracket, which has been expanded from 12 teams to 24 teams and eliminated the play-in games and added more at-large bids.
"We're up to nine teams within the MPSF, and the winner of the championship gets the automatic qualifier because of the brackets match-up," said Kelly. "I feel strongly that our schedule puts Denver in a position to contend for both an at-large spot and for the automatic qualifier, so it's a big year for women's lacrosse, and we're hoping it's a big year for the Pioneers."