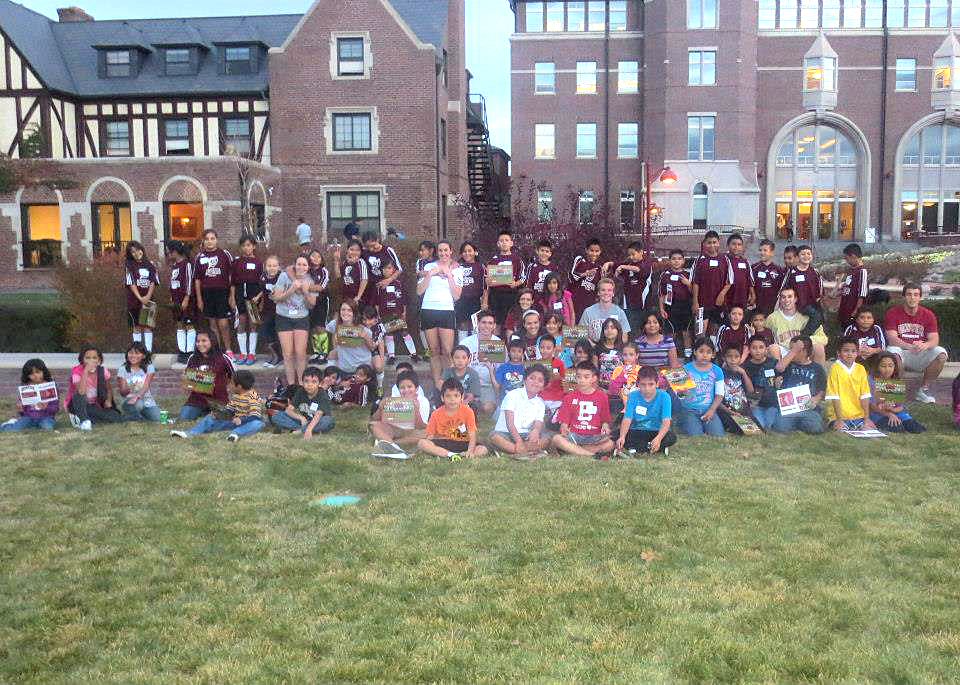 Students from the freshman seminar (FSEM) "Social Inequality in Schools and Sports" hosted an event last Tuesday that exposed 64 elementary students to college life in a partnership with Denver SCORES, an after school program that promotes literacy and physical activity in the form of poetry and soccer.
SCORES specifically promotes soccer because of it's inclusiveness as a sport and the lack of organized sports and after school activities offered to urban schools, while they focus on poetry to help the students develop creative thinking, literacy and speaking skills and help them demonstrate a positive attitude towards school.
"Most of these students come from low-income backgrounds and few of them haven't spent any time on or near a college campus," said FSEM professor Elizabeth Drogin, a lecturer in the writing program.
Two local public schools, Cowell and Monroe Elementary, participated in the clinic that took place on the Driscoll Green. The students arrived at 4:30 p.m. and began with a poetry slam by DU's Spoken Word slam club. They were also given time to ask questions about poetry and the poets themselves.
"The slam poet, [president of the club and DU student]Jose Guerrero, grew up in the same neighborhood as a lot of these kids so they can see the potential that's out there and the importance of staying in school," said Brandon Blew, Executive Director of Denver SCORES.
Following the poetry session was a soccer clinic put on by the DU men's soccer team. The kids did skill building drills, scrimmages and got some one on one time with the players.
While one school was participating in the clinic, the other took a tour of the campus.
"Having the poetry session and the clinic with the men's soccer team was our intention because it's such a big part of the SCORES program," said freshman biology major Aimee Molloy from Loveland. "We're trying to give them some motivation and inspiration for the future to keep their desire for education going."
Molloy is one of fifteen students in the FSEM service learning class that volunteers with SCORES on a weekly basis. Molloy said they use their experiences of volunteering to aid them with class discussions and assignments.
"Since SCORES students have welcomed our FSEM class to their schools we wanted to reciprocate and invite them to see our surroundings and learn more about our lives," said Drogin.
Through the SCORES program, exposure to higher education is being given to these students.
"They've heard a bit about college in their classes, but I think this is kind of the first time they've gotten to tour a college campus," said Sophia Kirshner, a teacher at Cowell elementary. "I hope they took away that a university is a really attainable place, and that it's a place that they belong."
The university itself is also trying to show that it is in reach for youth and that it is a "private university dedicated to public good."  A number of individuals and campus organizations helped to ensure this event was a success for all involved.
"We are grateful to CCESL [The Center for Community Engagement and Service Learning] for awarding a mini grant and enabling this fabulous day to occur," said Drogin. "In addition to our FSEM class, a number of organizations helped, including Jose Guerrero of DU's Spoken Word, Men's Varsity Soccer, Sigma Alpha Epsilon fraternity, Women's Club Soccer and campus tour guides."
By the end of the event, those involved said they hoped the kids took the experience as more than just a field trip and as something to strive for in the long run. According to Drogin, not only did the elementary students leave with a better appreciation for education, but her own students did as well.
"I hope [the elementary students]were inspired by seeing college students reciting poetry and playing soccer, two interests and skills that they practice through SCORES," said Drogin. "Through interacting with the SCORES students I also hope the FSEM students saw their college experience and the DU campus in a different light, perhaps with a heightened sense of appreciation."