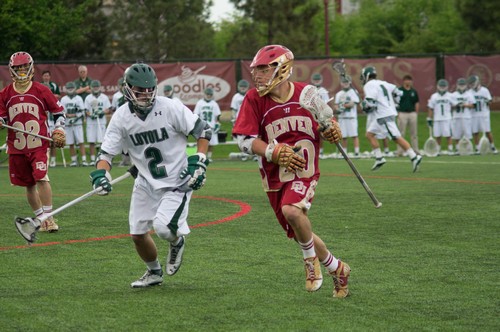 Photo by: Ryan Lumpkin
The DU men's lacrosse team will make its second consecutive appearance in the NCAA quarterfinals, following its 16-14 victory over No. 8-seeded North Carolina at Fetzer Field in Chapel Hill, NC.
Junior face-off specialist Chase Carraro engineered the high-scoring Pioneer offense, winning 29 of his 36 face-off attempts and dominating UNC's R.G. Keenan throughout the game.
Sophomore midfielder Jeremy Noble was named game MVP, recording a career-high 10 points on three goals and seven assists and setting a program record for points in a single game.
The Pioneers (9-6) took the lead at the end of the third quarter after three ties and five lead changes, surviving the Tar Heels (11-6) late run in the fourth quarter.
UNC scored with 48 seconds left in the game, cutting DU's lead to 15-14, but sophomore defensenmen John Zurlo caused a late turnover and recorded the ensuing groundball as the Pioneers held on to win the contest.
While Carraro and Noble were the top players in the game, the Pioneers had a plethora of big performances, including a five-goal night from senior captain Mark Matthews, who tied a career high for goals.
Freshman Wes Berg finished with five points on three goals and two assists, while senior Alex Demopolous notched two goals and an assist.
Denver's defense allowed 10 goals in the first half, but buckled down after halftime, shutting down the UNC offense late in the game, causing three crucial turnovers down the stretch.
With the win, Denver returns to the NCAA quarterfinals on Saturday, May 19, and will square off against top-seeded Loyola.
The Greyhounds (15-1) have been the Pioneers twice already this season. On April 14, Loyola outlasted DU 12-9 to win the Eastern College Athletic Conference regular season crown. Less than three weeks later, on May 2, Denver's fourth quarter comeback came up short as Loyola scored eight seconds to win 14-13 in the semifinals of the ECAC postseason tournament.
Loyola went onto win the ECAC postseason championship, earning the NCAA tournament's No. 1 seed. They advances to the quarterfinals earlier in the day, beating Canisuis 17-5 in a rout.
Denver advanced past the first round for only the second time in program history with its win. The Pioneers defeated Villanova last year at home as they eventually advanced to the Final Four, losing to Virginia in the national semifinals.