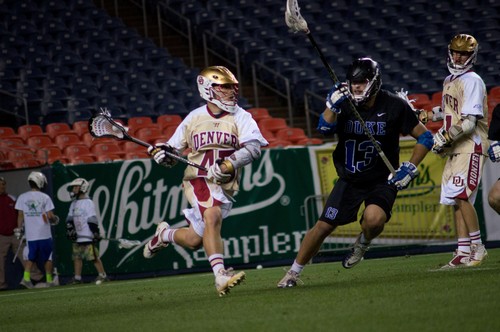 PHOTO BY: Ryan Lumpkin
Before sophomore midfielder Jeremy Noble came into the picture, 10 points for a midfielder in one game was unheard of.
In Denver's May 12 victory over the University of North Carolina, the Canada native netted three goals and seven assists for the Pioneers in their 16-14 win over the Tar Heels in the first round of the NCAA tournament, setting a Denver Division I record with 10 points in a single game.
After his performance against UNC, the Baltimore Sun announced that Noble was named the National Player of the Week on Friday.
"Three goals and seven assists is unheard of for a midfielder in a huge game like that," said head coach Bill Tierney after the victory over UNC.
Before coming to Denver, Noble primarily played box lacrosse in Canada. Despite playing some field lacrosse, Noble noted the game is entirely different in Canada than in the U.S.
"[The adjustment] was tough; it took me a while just to figure out your certain areas when you have to know when to go and know when to pull out, all that different stuff," said Noble about transitioning into field lacrosse. "It was really tough, but I think that by about halfway through the year, it got a lot better and I started to understand everything a lot better."
It became apparent last season Noble had become acclimated into the different lacrosse style when he scored nine goals and six assists in Denver's three NCAA tournament games. Noble also became Denver's only player NCAA All-Tournament team honoree last season.
Noble finally broke out into the Denver lacrosse scene last season in the NCAA tournament game against Villanova, when he racked up six points off four goals from only five shots and two assists in the team's first-round 13-10 win.
"Jeremy is a big time player," said teammate and junior attackman Eric Law. "Last year, he was on the alternate team for the NCAAs, and this year he is on his way to be the same thing. He knows when to go hard and knows when to pull it out. He does everything for us; he plays defense, he plays offense, he does it all."
Noble began playing lacrosse at eight years old, when his dad got him involved, much to his mother's dismay. In a year's time, his twin brother Jason began the sport as well.
Jason, a junior defenseman, plays for Cornell University. The brothers wear matching No. 45 jerseys to honor their high school teammate, Jamieson Kuhlman, who lost his life in 2008 after being struck in the head with a lacrosse ball. The brother duo had to face off earlier this season, when the Pioneers suffered a 9-8 overtime loss to Cornell on March 20.
Despite having to play against each other, both brothers still lean on the other through the collegiate lacrosse experience.
"It's pretty cool; it's definitely something we can lean on each other towards," said Noble. "If I have a bad game or a bad week of practice, he's always there to talk to. I talk to him every day, all day, and he's always there for me. He's my biggest supporter, and I'm his biggest supporter. There's no one else like my brother out there."
Fortunately for Noble, when he came to Denver, he was greeted by familiar faces. Senior attackman Mark Matthews, also Canadian, had known Noble and junior attackman Cameron Flint growing up from playing him in lacrosse in their pre-Denver years.
"For sure [I've been a mentor to] Jeremy," said Matthews. "Flint, he's fine by himself, but Jer needs a little pushing every so often. When he came in he was just a little baby and now he's matured big time and is a big guy on the field."
Noble, standing at 5-foot-8 and 165 pounds, is smaller than many midfielders, but, as Tierney noted, it does not stop him from achieving as much or more than others.
"There was one time on a face-off in the game against  (North) Carolina, when he was lining up on the wing," said Tierney. "Jeremy's 5-foot-8 and 150 pounds on a good day, and he's lining up against a kid named Mark McNeill, who plays on UNC's football team, 6-foot-4 and 230 pounds. He looks at Mark and looks at us, and then next thing you know, he's beating him to a ground ball. That's the beauty of lacrosse."
Playing against giants such as McNeill doesn't bother Noble, who has tallied 46 points this season on 25 goals and 21 assists, making him the third best scorer on the team behind senior attackmen Matthews and Alex Demopoulos.
"[My size] doesn't bother me; I don't really notice it at all," said Noble. "I feel like I'm the same size, if not bigger, than anyone out there. Sometimes, like in the North Carolina game, there was this huge number 43 guy that was like 6-foot-3 and I looked over and I was like 'Jesus.' But other than that, it doesn't affect me at all, and I don't really notice it."
Similar to his stature, Tierney said Noble's ego is small. Despite the impressive 10-point performance, Noble looked to put the credit elsewhere.
"Jeremy, in the post-game press conference, was just so Jeremy," said Tierney. "[He was] so complimentary of his teammates, talking about how hard we work, everything but Jeremy. That explains who he is. Last year in the playoffs, he was our best player and he certainly stepped up in this one so hopefully he can continue that."
Noble continued his press conference attitude last week, putting all the credit from the win over the Tar Heels on the team and pushing it away from his strong performance.
"It was a great team win," said Noble. "Everyone contributed throughout the week in practice and in the game. It wasn't one single person that showed out in that game, it was pretty much just everyone working hard that week for that win."
However, as shown in his impressive playoff performances in the past two years, Noble has been a standout player for the Pioneers.
With his style of play, and his mentality, the playoffs are the time of the year for Noble.
"Just play every game like it's your last game, that's all you can do," said Noble. "I've played well in the tournament, but I think our whole team has played well in the tournament, and it's not just a testament to me. I think it's like a tournament team win and we know when we need to turn things on. But I love the tournament; it's my favorite time of year and I guess that's shown."
In addition to Noble's Mr. October-style personality, he has been a consistent player for the Pioneers all season, being the top scorer in the April 14 game against Loyola, when he recorded a hat trick. He also recorded at least one point in 15 of 16 games this season.
In order to continue his strong performances, Noble said hard work and consistency are key.
"Just working hard every week in practice and just playing my game [makes me consistent]," said Noble. "We have great teammates out there on the field, so I think all of our offense is very consistent. When we're playing our game, it's pretty tough to stop us."