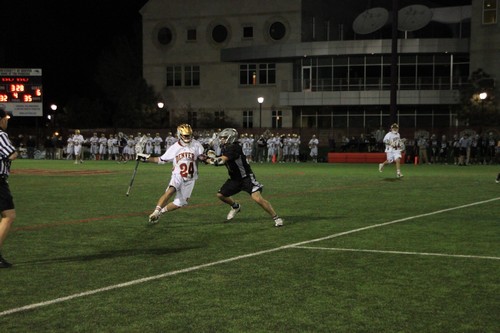 Photo by:
Despite a slow start, the Pioneer men's lacrosse team won Friday night, defeating Bellarmine 12-6 to earn their third consecutive Eastern Collegiate Athletic Conference victory.
With the win, the Pioneers advance to 7-3 overall this season and 3-1 in conference. The team also goes from being ranked No. 9/11 in the national polls to No. 8/10 overall, making Saturday's contest with conference-foe Loyola a battle between a pair of top-10 teams.
It wasn't an easy victory for Denver, as the team struggled throughout the contest, allowing the Knights to get within one goal late in the third period after a four-goal onslaught brought the score to 7-6 with 1:04 left to play in the period.
The Pioneers went on a five-goal run to finish the contest but still ended up losing the face-off battle to the Knights.
"We didn't finish well early when we had some chances, and then they got the ball in their hands and it turned into a wild game," said head coach Bill Tierney. "When it came back to 7-6, I thought our guys really showed some fortitude, said 'enough is enough' and that's when we scored five straight goals for the win. I'm proud of our guys for showing some resolve."
Senior attackman Mark Matthews led the way for the Pioneers, recording a season-high six points off five goals and one assist. Fellow senior Alex Demopolous joined the scoring effort, finishing with two goals and two assists and extending his point-scoring streak to 45 games, which ranks him 2nd in the nation.
While the Pioneers' offense was effective late in the fourth quarter, the team struggled in the first three quarters and ended up being outshot by the Knights.
Freshman goalie Ryan LaPlante had his best performance in net for the Pioneers, recording 11 of his career-high 16 saves in the first half and preserving the DU lead heading into halftime.
"Ryan's 11 first-half saves is almost unheard of, but thankfully he came out ready and made some huge stops for us; otherwise, we would have been down early on," said Tierney.
No. 4 Loyola up next
Tierney admitted after the victory on Friday that the team needs to play better this weekend, when the No. 4-ranked Loyola Greyhounds (10-0, 4-0) visit Peter Barton Lacrosse Stadium on Saturday for a pivotal ECAC match-up at 7 p.m.
The Pioneers are used to playing top-ranked opponents, losing in March to then-No. 8 Notre Dame and then-No. 3/4 Cornell; however, the team has yet to earn a signature victory this season.
"We better play a lot better than we did tonight, because Loyola is a bear of a team," said Tierney. "They are complete on offense and defense. Sometimes you play up to the competition, and I hope we do that next week."
A second loss in conference, as well as a fourth loss overall, could hinder the Pioneers' postseason push.
The Greyhounds currently average 12 goals a game, while limiting their opponents to a mere seven goals. In addition, the Greyhound defense has limited opponents to 26.9 shots a game, outshooting opponents 422-269 this season.
Senior Eric Lusby and junior Mike Sawyer are the team's best goal scorers; however, the Pioneers must prepare for a defense led by senior Dylan Grimm and junior Acton Reid, who have combined for 50-plus groundballs this season.
Loyola's top goalie, sophomore Jack Runkel, has made 70 stops this season on 216 shots faced, while recording a perfect record.
Loyola currently sits atop the ECAC standings, while DU sits in 2nd place tied with Ohio State.