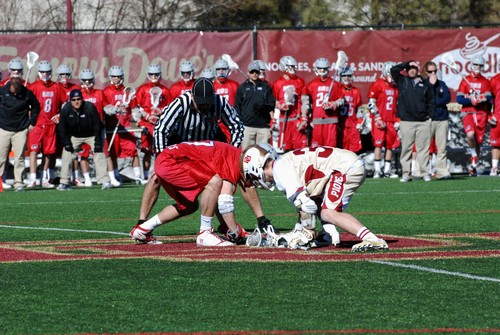 Photo by:
After a promotion from a volunteer assistant last season to an assistant coach, specializing in face-offs this season, Dylan Sheridan's impact is showing in the men's lacrosse program.
Sheridan came to the Pioneers last year as a volunteer assistant from the Division III Lebanon Valley College in Pennsylvania, where he assisted head coach John Haus in reviving the Flying Dutchmen men's lacrosse program.
Last season, with his focus on face-offs, Sheridan helped the Pioneers improve from No. 36 in the national rankings for face-offs to No. 15 with a .563 win percentage. This season, he has helped the team win 170 of 267 face-offs, giving them a .637 win percentage and claiming the No. 2 face-off win percentage in the NCAA.
Prior to his arrival in Denver, Sheridan was no stranger to lacrosse, having played in three state championship games in high school, winning one, and playing club lacrosse after high school, but he did not focus on face-offs. During his club years, Sheridan was a three time All-American and now boasts six years of coaching experience.
Despite the impressive numbers, Sheridan is quick to give the credit to the top two face-off athletes, juniors Chase Carraro and Chace Calkin.
"[Working with them] is awesome. They're great kids, and they work really hard at it," said Sheridan. "They're coachable, so it's been a good experience. I think it's more about them just being confident in their abilities [than my coaching]. They're such talented kids, and if they're confident, they're going to play well. So, for me, it's just continuing to push them, but in doing so, making sure they feel confident about their abilities."
The Pioneers boast the No. 2 face-off win percentage by a single athlete in the NCAA Division I this season with Carraro, who has a .655 win percentage. Carraro has also posted impressive single-game statistics, including his 22-of-23 face-off wins in the March 31 win over Hobart, just two shy of the NCAA record, and his 21-of-25 face-off wins on Saturday against Loyola.
"It's been great [working with Sheridan]," said Carraro. "He definitely knows how to push us as face-off guys to get the most out of us, because face-offs are sort of a game within a game. They're a tough little facet of the game where if you don't win them, you don't really have a good chance to win the final score. But, in his knowledge of face-offs, he just knows what he's doing, and it's really helped in the past two years to put us on the top of the rankings for face-offs in the NCAA."
Sheridan's hard work with Carraro has paid off, as the Kentucky native has picked up four ECAC Specialist of the Week awards this year, most recently yesterday.
"Fundamentally, I think I was prepared last year to do as well as I'm doing. It's more of a mental thing and gaining confidence," said Carraro. "There's a few different things that just come with experience that are separating me now from the five face-off wins a game that I used to not get, but now I'm getting them just because I'm a little more experienced, and I know what I'm doing a little bit more out there."
Along with Carraro, Calkin, an athlete who had not previously focused on face-offs, has learned much from Sheridan and attributes much of his success to him.
"It's been awesome last year and this year," said Calkin. "Right now, we're going to put in extra time, and he's really kept us motivated and kept us not being alright with mediocrity. He pushes us harder than we would push ourselves, and it's awesome. I really enjoy it. He's always there, and he watches a ton of film. He always knows the guys better than we do, our opponents, and he always tells us what we need to do to get ready for a certain guy."
Sheridan has also found working under head coach Bill Tierney to be a great experience.
"Coach T, he's a guy's guy. He understands when kids need to be pushed, and he also understands when he needs to put his arm around them, and I think the guys really enjoy playing for him," said Sheridan. "Obviously, for me, working for him has been incredible and a great learning experience."